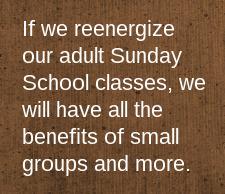 From Faith Pulpit, Winter 2015. Used by permission, all rights reserved.
The venerable adult Sunday School class has not been doing well recently. Most churches still have one or more adult Sunday School classes (though some churches have already abandoned them), but a new adult ministry seems to be getting the priority these days—small groups.
I believe that one reason for the popularity of small groups is that in many cases we have not done adult Sunday School well. Adult Sunday Schools in many churches have become stale and lifeless, so we have looked for a new ministry. Small groups seem like the answer to the problems of adult Sunday School classes.
How Do They Differ?
Most of us are familiar with adult Sunday School classes. Churches have had them for decades. Smaller churches may have only one class while larger churches have multiple classes. Churches that have more than one adult class may group the adults by ages (my preference) or allow adults to attend any class they want. Many churches today call the adult classes Adult Bible Fellowships (ABFs).
7789 reads