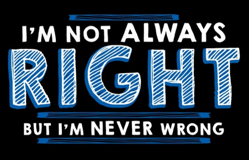 Sometimes, you can be right about something, and yet still be completely wrong.
When I was a criminal investigator with the Military Police, I had a case involving a Sailor who might have faked his promotion and been receiving extra pay for the past three years. That's a lot of money. Add to it that your cost of living allowances change depending on your rank, and you're looking at even more money. This was a good case.
Everything pointed to the conclusion that he had forged paperwork, and somehow gotten it past Personnel. We interviewed the Personnel Officer for several hours, wondering how it could have been done. We had the admin guys calculate a dollar figure. We briefed the Staff Judge Advocate, who began salivating with glee and plotting a general courts-martial. We were just missing the one thing. We needed confirmation from a training school back in Texas that they did not promote the guy.
1859 reads