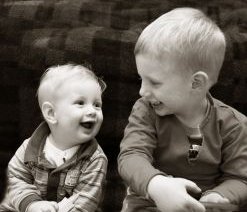 "A ship is safe in harbor, but that's not what ships are for."—William Shedd
Yesterday my youngest son turned 3.
Our Peter has lived these last three years the same way he came into the world—bold, loud, and larger than life. He's the family clown willing to do anything for a laugh. He refuses to let his age or size leave him out of what the rest of us are doing. And at three, he already knows two-column addition…as long as the answer is always "69".
Peter: Mommy, let's do numbers.
Mommy: Okay, Peter, what is 5+64?
Peter: 69!
Mommy: Good! What is 33+36?
Peter: 69!
Mommy: What is 27+42?
Peter: 69!
I have to admit, it's pretty rewarding for everyone involved.
1112 reads