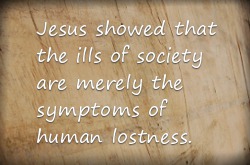 Read part 1.
In an earlier article (Considering the Words of Jesus for Social Justice and other Applications), I asserted that Jesus' conversations during His earthly ministry fit into four general categories: (1) dialogues—usually intended to challenge particular people to repentance (right thinking about who God was and how one could be justified by Him); (2) pre-rejection public discourses about the kingdom—usually intended for broad audiences with a view to promulgating and clarifying the details of the kingdom so that the nation would understand clearly what was at stake; (3) post-rejection public discourse about the kingdom—usually in parable form, in fulfillment of prophecy, and for the purpose of hiding the truth from those who had already rejected; and (4) preparation of the disciples—often including private instruction so that those He had chosen would be prepared for the task of founding and leading the forthcoming church (assembly).
With these contextual keys in view, let's examine some passages often invoked to advocate for social justice. The goal here is (1) to discover what Jesus was actually advocating, and (2) whether or not government mandated social justice was on His agenda.
Blessed are you who are poor, for yours is the kingdom of God (cf. Luke 6:20 and Matt. 5:3 and John 18:36).
2772 reads