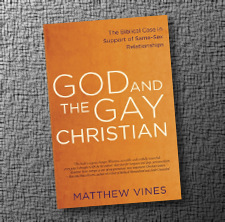 Read the series so far.
In chapter four, Vines addresses the first of six biblical texts dealing with homosexuality. The remaining five are considered in subsequent chapters. Vines' aim is to demonstrate that none of these passages prohibit committed same-sex relationships.
Chapter four analyzes God's destruction of Sodom and Gomorrah as recorded in Genesis 19. That Christians have traditionally understood this event to indicate God's strong disapproval of same-sex relationships is both mistaken and unfortunate according to Vines. He believes that a more careful study demonstrates that the sins of Sodom were inhospitality and violence, not homosexuality.
Vines begins by examining a list of Old Testament texts that mention Sodom, pointing out that none of these explicitly cite same-sex relations as the reason for destruction. He follows with evidence from extra-biblical Jewish literature, drawing the same conclusion. He believes that Sodom's offenses were lack of hospitality and attempted gang rape. Next, he briefly examines and explains all negative New Testament references to Sodom, continuing to muster evidence for his premise. Vines claims that no one linked Sodom's destruction to homosexual behavior until Philo, the first century Jewish historian. He asserts that Philo inaugurated a gradual shift in perceptions, until the destruction of Sodom became linked to homosexuality in the minds of most Christians from about the tenth century onward. But from the beginning, he assures us, it was not so.
5420 reads