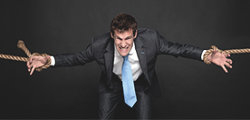 Reprinted with permission from Baptist Bulletin May/Jun 2013. All rights reserved.
As a church leader, you are asked to counsel a man in your church who is having marital problems. In your first meeting, he tells you he is having an affair that he has no intention of ending. Do you have a duty to disclose this to the other leaders to work toward reconciliation? If his wife is a part of your church, do you also have an obligation to her? Do you have a duty of confidentiality to the counselee? If you didn't disclose to him that you might be obliged to discuss his disclosure with church leaders, and if no one signed a waiver of confidentiality, you are in the middle of a conflict of interest.
The importance of the broader issue—ministerial ethics—should be obvious: an ethical failure can ruin a ministry. I recently wrote Doing Right while Doing Good with Kenneth Bickel to show how ethics is ultimately about choices. We debate the merits between courses of action because we seek the right choice. When we choose poorly (contrary to Scripture), we have failed. Consequences might include irrelevance, fractured relationships, or even the end of a ministry.
1743 reads