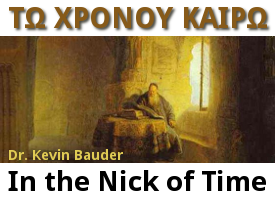 Since multiplied volumes have been written in the attempt to define culture, offering a description in a single short essay is certainly presumptuous. This apparent presumption is exacerbated by the fact that social scientists (anthropologists, sociologists) and humanists approach the topic quite differently. For a Christian and theologian, this presumptuousness is further underlined by the fact that the Scriptures themselves offer no deliberate or explicit discussion of the subject.
Nevertheless, some of the most heated conversations in contemporary Christendom concern the relationship between Christianity and culture. Those conversations affect virtually every area of church life. The problem is simply too important to dismiss.
Without at least a preliminary description of "culture," this entire conversation becomes nonsensical. Without a mechanism to distinguish culture from non-culture, the discussion can broaden to include almost anything. Some attempt at limiting the field of enquiry is obligatory for those who wish to pursue this debate.
From a Christian perspective, certain distinctions seem especially important for a correct description of culture. Without these distinctions, discussions of Christianity and culture quickly become confused. These distinctions are two in number.
8287 reads