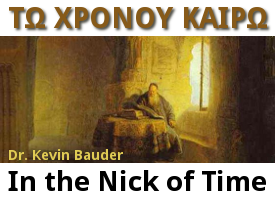 Read Part 1, Part 2, Part 3, and Part 4.
False ideas are the greatest obstacles to the reception of the gospel. We may preach with all the fervor of a reformer and yet succeed only in winning a straggler here and there, if we permit the whole collective thought of the nation or of the world to be controlled by ideas which, by the resistless force of logic, prevent Christianity from being regarded as anything more than a harmless delusion. Under such circumstances, what God desires us to do is to destroy the obstacle at its root.

—J. Gresham Machen in "Christianity and Culture"
Contemporary discussions of Christianity and culture almost always begin with an analysis of the "ideal types" that H. Richard Niebuhr developed in Christ and Culture. So prominent have Niebuhr's categories become that one might overlook the fact that Christians were writing and thinking about culture for a very long time before Niebuhr came along. One writer who contributed to this discussion was J. Gresham Machen.
9816 reads