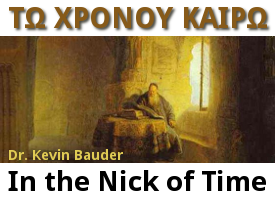 Read Part 1, Part 2, Part 3, Part 4, and Part 5.
J. Gresham Machen's essay on "Christianity and Culture" forces its Christian readers to evaluate their relationship to high culture. While Machen surely did not expect every Christian to become a poet, composer, philosopher, or statesman, he did expect Christians to adopt a generally positive attitude toward such activities. He was particularly concerned with the Christian attitude toward scholarship. He argued that Christians should neither subordinate Christianity to culture (liberalism), nor simply ignore or reject culture in favor of Christianity (obscurantism). Rather, he suggested that Christians should engage in the work of consecrating culture to the service of God.
Not surprisingly, Machen's approach has been rejected by those branches of Christianity that have been most influenced by populism. At best, such Christians see high culture as a distraction. They may even perceive it as an outright threat to the life of faith. Fascination with high culture is thought to exhaust time and effort on education and the arts that might better be spent in winning souls. High culture is presumed to produce arrogance in those who fall under its spell. Worst of all, high culture introduces Christians to corrosive ideas that have the potential to deceive. According to this theory, Christians might better leave such things alone and choose a plain life of humble service to God.
Admittedly, high culture—and especially academic culture—can provide an occasion for arrogance. People who invest years of their lives perfecting their mastery of an art or a learned discipline tend to become a bit testy when critiqued by dilettantes. Furthermore, they sometimes assume that their study grants them authority outside their areas of expertise. Even within those areas their competence may actually be less than they imagine.
4657 reads