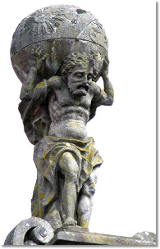 Mythology is everywhere (see Part 1), and there are biblical reasons that Christians should not necessarily break out in hives when they encounter mythology (see Part 2). The good news is that there can be much more to the Christianity-mythology relationship than narrow-eyed tolerance. There are numerous practical benefits to having a good understanding of mythology.
1. Meeting historical/cultural expectations
Knowing where we came from is just part of being an educated person. As one pastor has pointed out, we expect grade school students in Maryland to learn Maryland history—so as heirs of Hellenic and Latin civilizations, we owe it to ourselves to be somewhat knowledgeable about Greco-Roman culture.1 It's simply our history.
We also have a Judeo-Christian history, but let us learn both instead of gravitating towards one over the other. Neither let us pretend that Christian history is pristine compared to the stories of polluted pagan mythology. Biblical history is nothing more than stories of God's salvation of pagans.
One could argue that we are to be counter-cultural, and that is true in a certain sense. But being counter-cultural does not mean that we have to counter everything.2 At times, Paul argues from both creational and cultural norms.3 Creational norms are fixed, but there are also acceptable cultural reasons for acclimating ourselves to our surroundings. We may not like some aspects of our culture, but we should be educated in the culture that we find ourselves in.
12085 reads