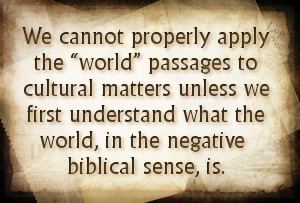 You don't hear much preaching against worldliness these days. Having grown up hearing negative references to "the world," "worldly" and "worldliness" on a fairly regular basis, the absence seems odd to me sometimes. On the other hand, where worldliness is still a frequented topic, the term seems unclear, disconnected from biblical intent—or both. Whatever happened to worldliness?
More than one phenomenon is occurring.
First, we have a problem of omission. In some cases, this is due to nothing more than uncertainty by pastors and teachers as to how to handle the subject effectively. But sadly, in many ministries, the neglect is due to philosophies of ministry that embrace worldliness as the number one way to "reach people" and achieve "relevance." What has happened to worldliness in these cases is that—as a pulpit and classroom topic—it has been shelved.
Second, in some ministries, the terms "worldly" and "worldliness" occur rarely from the pulpit simply because they occur rarely in Scripture. Though references to "world" abound in the Bible, "worldly" occurs only twice in the KJV (Titus 2:12 KJV, Heb. 9:1 KJV). The 1984 NIV uses it ten times (Luke 16:9 NIV; Luke 16:11 NIV; 1 Cor. 3:1 NIV, 1 Cor. 3:3 NIV; 2 Cor. 1:12 NIV, 2 Cor. 1:17 NIV; 2 Cor. 5:16 NIV, 2 Cor. 7:10 NIV; Titus 2:12 NIV). Still, the term "worldliness" does not occur in the Bible at all. So, what has happened to worldliness in these ministries is that it is being handled biblically using different language.
12337 reads