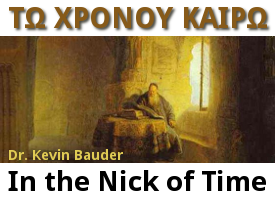 O God of God, O Light of Light, O very God of very God, toward You I cast my mind as the tempest casts waves from the sea. Like breakers upon ancient crags do my small thoughts dash against You and fall back into themselves. In You I find—and fail to fathom—height above height and depth beyond depth, eternal and incomprehensible.
Lover of my soul, You veil Yourself from prying eyes. You hide Yourself from the curious and You rebuff the inquisitive. You hold Your radiance as a precious treasure, not as merchandise to satisfy faithless seekers who peer into the transcendent.
O Alpha and Omega, O Uncreated One, O First and Last: You are the only-begotten Son, of one substance with the Father, begotten before all worlds, begotten but not made. You made all things, both visible and invisible, whether things in heaven, or things on the earth, or things under the earth, whether thrones, or dominions, or principalities, or powers. By You all things consist, for You uphold all things by the word of Your power. You are before them all, and they all are by You and for You and in You.
Divine Poet, creation is Your stanza. Though You are altogether above the things that You have made, yet through Your handiwork You disclose Yourself. In the created world have You shown Yourself. By it do we clearly see invisible mysteries. Throughout Your poem have You spoken a message of eternal power and Godhead. The very skies declare Your praise to every eye. Day speaks to day and night whispers to night, and no ear is deaf to their voice.
Let the whole creation sing to Your glory! Let the fowls of the air and the fishes of the sea, the beasts of the field and the trees of the forest cry out Your praises! Let the sea roar and the fields rejoice in Your presence! Let the mountains tremble at Your majesty and the heavens be afraid under Your dominion!
614 reads