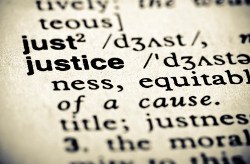 Earlier this year (February 2, 2012) at the National Prayer Breakfast, President Obama described his economic policies as being motivated (partly) by religious ideals. He identified three in particular: he cited his belief "in God's command to 'love thy neighbor as yourself;'" he acknowledged that his policy "coincides with Jesus' teaching that, 'for unto whom much is given, much is required;'" and he noted, "I am my brother's keeper."1
The President's commentary is emblematic of the ideas that (1) government is responsible for ensuring fairness for everyone, and that (2) Jesus' words may be understood to support government's function to that end. Besides the general difficulties in defining fairness and determining its scope, there are significant problems in understanding the biblical record as supportive of such a role for government.
Three of those problems include (1) the problem of legislating morality and the scope of government, (2) the "menu" problem in handling Jesus' words, and (3) the unsolvable problem for government. This first article will discuss the problem of legislating morality and the scope of government, and will be followed by two articles handling the other two difficulties. The goal of these articles is to consider how biblical Christianity is related (or unrelated) to government in the task of social justice, and what is a biblical perspective on social justice and on individual and collective responsibilities to that end.
1966 reads