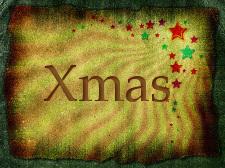 Reposted from The Cripplegate.
I'm all for putting Christ back in Christmas. And there is no doubt that our secularized culture is working hard at surreptitiously ushering the Baby out, without losing the murky bathwater of gift-giving and commercial celebration. But I'd like to address the misinformed concern that the use of "Xmas" as a placeholder for "Christmas" is part of the conspiracy to excise Christ from his holiday.
First, Christmas is not a biblical holiday. There are no New Covenant feast days; besides communion, there is no recurring remembrance that is mandated. The Catholics came up with the Christ Mass feast, and global retailers and consumers alike hopped on the bandwagon. So, if Jesus becomes as absent to the secular mindset from Christmastime as he is from Halloween, there is no loss to the New Covenant.
Second, and this is my main point, using "X" to replace "Christ" is not necessarily an indication of anything sinister. I have used Xmas and Christmas interchangeably with a clear conscience ever since learning about the history of its usage.
Some Christians shun the use of "Xmas."
In an interview Franklin Graham opined on behalf of evangelicalism:
For us as Christians, this is one of the most holy of the holidays, the birth of our savior Jesus Christ. And for people to take Christ out of Christmas. They're happy to say merry Xmas. Let's just take Jesus out. And really, I think, a war against the name of Jesus Christ."
1329 reads