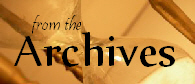 This essay's first appearance at SharperIron was in January of 2009. Previous installments in the series: 1, 2, 3, and 4.
The Gospel According to Walt
We have examined the vision of the gospel that is being propagated by Scot McKnight of North Park Seminary and by Timothy Gombis of Cedarville University. They are certainly not unique in the evangelical world. Indeed, their understanding of the gospel has become influential among an increasing number of evangelicals.
The theory, however, is not new. As an example, consider Walt. Like Scot and Tim, Walt did not wish to abandon the gospel of personal salvation. Also like Scot and Tim, he yearned for a gospel that could deal with problems that he deemed larger and more important. Here is what Walt said:
1506 reads