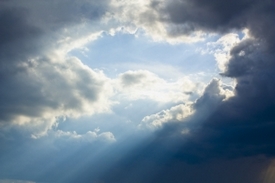 Read the series so far.
When will the rapture take place?
Our Lord assured us that it was impossible to date the rapture of the church. "But of that day and hour no one knows, not even the angels of heaven, but My Father only" (Matt. 24:36; cf. vss. 42, 44, 50; and Mark 13:32-37).
Amazing! Not even the Savior knew the date of His coming again. During the days of His non-glorified human existence—for a third of a century—our Lord set aside the independent exercise of His divine attributes of greatness (omnipotence, omniscience and omnipresence), not His moral attributes (holiness, truth, love, etc.). That is the meaning of Phil. 2:7 and 8—He "made Himself of no reputation… He humbled Himself and became obedient to the point of death, even the death of the cross."
Over and over again, our LORD explained: "I do nothing of Myself; but as My Father taught Me, I speak these things" (John 8:28); and "the Father who sent Me gave Me a command, what I should say and what I should speak…Therefore, whatever I speak, just as the Father has told Me, so I speak" (John 12:49, 50; cf. 5:20, 7:16, 8:38, 8:40, 15:15, 17:8).
1308 reads