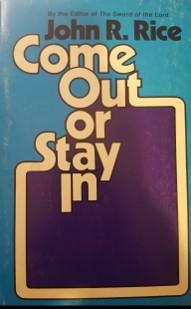 In 1974, the evangelist John R. Rice wrote a book on separation entitled Come Out or Stay In. Most Baptist fundamentalists are familiar with Ernest Pickering's book on the same subject, but few are aware that Rice contributed to the discussion. Fewer still are aware he took a dim view of "secondary separation." In this excerpt,1 Rice states his position plainly:
There is a Bible doctrine of separation. There is not a Bible doctrine of secondary separation. What do we mean?
Define "secondary separation"
The Bible very clearly teaches that we should not give Christian recognition nor Christian fellowship to those who are "unbelievers," the unconverted, but we should come out and be separate from them (2 Cor 6:14-18). The Christian should not walk in the counsel of the ungodly, nor stand in the way of sinners, not sit in the seat of the scornful (Psalm 1:1). He should "have no fellowship with the unfruitful works of darkness, but rather reprove them," (Eph 5:11). The Christian should not receive into his house (or pulpit or college or denominational program or even church membership) one who has forsaken the Bible doctrine of separation.
4814 reads