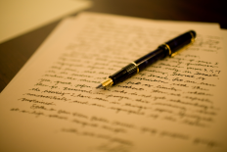 My dear Frederick:1 I read your last email with joy in my heart! You say your Christian is going through a difficult time; that his wife has left him and run off with her "personal trainer" from the gym. This is excellent news, my boy! You must strike when his defenses are at their weakest — never lose an opportunity to help him doubt the Enemy's goodness, kindness, mercy and grace.
Make the enemy a tyrant
Don't tempt him to doubt the Enemy's providence; his governance over everything that happens. No, Frederick — we want him to keep believing that God (in the words of one of the Enemy Forces' wretched creeds), "leads and governs them according to his holy will, in such a way that nothing happens in this world without his orderly arrangement."
You see, we don't want him to doubt that God governs His creation. He certainly does! What we want, Frederick, is for this young man to doubt God's goodness. You must do everything you can to make the Enemy seem cold, distant, uncaring and unmerciful. Make the man despise God for allowing this to happen. Poison his mind with bitterness! Instead of recognizing that God governs and controls everything, but people are still morally responsible for their own actions — lead him to believe that God is a cruel despot, a wicked kitten playing with a spider.
2823 reads