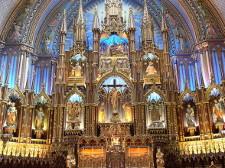 (Read the series so far.)
As far as I can tell the Roman Catholic Church now teaches that the most likely way to go to hell is to believe Roman Catholic doctrine. Allow me to support this from a series of quotes from the Catechism of the Catholic Church (CCC).
The CCC teaches that Protestants who disbelieve the doctrine of the Roman Catholic Church are likely saved:
CCC-818: However, one cannot charge with the sin of the separation those who at present are born into these communities [that resulted from such separation] and in them are brought up in the faith of Christ … . All who have been justified by faith in Baptism are incorporated into Christ. (Brackets in original.)
CCC-819: Christ's Spirit uses these Churches and ecclesial communities as means of salvation, whose power derives from the fullness of grace and truth that Christ has entrusted to the Catholic Church.
8491 reads