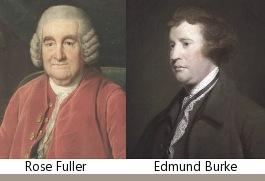 In the spring of 1774, the British Parliament was debating the Intolerable Acts, as a response to the latest conflicts with the American Colonies—the Boston Tea Party in particular. On April 19, Rose Fuller moved that the tea tax be repealed. Edmund Burke delivered a speech in support of the motion. Excerpts appear below. The speech was more than twenty pages long and Burke had to pause at least once to recover his voice (full text of the speech).
Speech on American Taxation
Sir,—I agree with the honorable gentleman who spoke last, [Charles Wolfran Cornwall, who opposed the motion] that this subject is not new in this House. Very disagreeably to this House, very unfortunately to this nation, and to the peace and prosperity of this whole empire, no topic has been more familiar to us. For nine long years, session after session, we have been lashed round and round this miserable circle of occasional arguments and temporary expedients. I am sure our heads must turn and our stomachs nauseate with them. We have had them in every shape; we have looked at them in every point of view. Invention is exhausted; reason is fatigued; experience has given judgment; but obstinacy is not yet conquered.
…
4398 reads