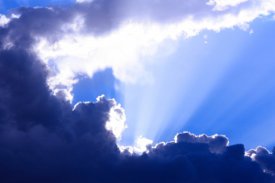 Read Part 1, Part 2, and Part 3.
The Glorification of Dead Christians
The most detailed description of the rapture of the church is found in Paul's first letter to the persecuted Christians whom he left in Thessalonica. He wrote this letter from Corinth, where he confronted much confusion about the personal destiny of believers. Some Christians in Thessalonica had already died (perhaps by martyrdom), and the saints there were concerned that their dead loved ones would miss out on the second coming of Christ.
But dead Christians will not be forgotten by God at the second coming. In fact, they will be the first humans to experience glorification since the Lord Jesus. Yes, Christ was "the firstfruits." He is the first and only human ever to have been glorified. But "afterward"—nearly 2,000 years already—members of His body and bride, namely, "those who are Christ's," will share His glory "at His coming" (NKJV, 1 Cor. 15:23).
Now Paul was emphatic in his letter to the believers in Thessalonica on this one point: Dead Christians will be glorified even before living Christians!
1015 reads