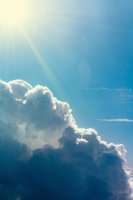 Read Parts 1, 2, 3, 4 & 5, 6, 7, and 8.
The glorified bodies of believers
Paul's reply to the questions asked by the Corinthian church about the resurrection body is highly significant and enlightening. First, the substance of that body will be different: "And what you sow [in death, like a seed that is planted], you do not sow that body that shall be, but mere grain—perhaps wheat or some other grain" (NKJV, 1 Cor. 15:37). It is amazing how different is the substance of a stalk of corn from the substance of the tiny kernel that is planted in the ground—from which it came!
On the other hand, the identity of the body that is raised or raptured is the same as the non-glorified body from which it came. "But God gives it a body as He pleases, and to each seed its own body" (1 Cor. 15:38). Perhaps we will even have the same fingerprints!
This principle of continued identity in the midst of changing substance can be illustrated quite easily. I have crossed the great Mississippi River many times. It is always the same river, but not one particle of water in that part of the river I crossed is the same—even an hour later. As for our human bodies, every molecule that was in me 10 years ago has been replaced by another. It has the same identity—but with a different substance.
498 reads