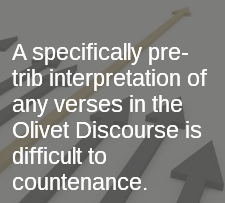 This post continues the introductory survey of key rapture-related passages begun in Part 2. Read the series so far.
The Main Verses: Matthew 24:36-44 Continued
There is no doubt in my mind that this passage is a second coming passage. There is also no doubt in my mind that the language of "one taken…another left" in Matthew 24:40-41 is apposite to the present discussion. In the surrounding context Jesus refers to a gathering up together (episounazousin) of the elect (24:31). So Jesus does speak of a removal of saints. But is this "taking out" to be understood as the being "taken" a few verses later? I think there is a real possibility that it should.
Perhaps most dispensationalists say that those "taken" are taken to judgment. In verse 39 those who didn't make it into the Ark (because they couldn't be bothered to go) were taken away by the flood waters. But from my reading of the Second Coming passages in Isaiah 63:1-6, Malachi 3:2 and 4:1-2, and Revelation 19:11-21, it does not appear to be such a good idea to be "left" hanging about. This agrees with the flood story, where it was infinitely preferable to be removed to safety in the Ark than to be left to face the elements. Further, in Revelation 14:14-16 the earth is reaped of the saints, "the harvest [which is a good image] of the earth," before the wicked are gathered to "the winepress of the wrath of God" in terms too reminiscent of Isaiah 63 to ignore. Thus, Revelation 14 should not be overlooked in the discussion of this passage.
1727 reads