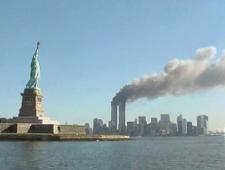 Most likely you remember where you were when you first learned of the terror that came to America's shores on the morning of September 11, 2001.
It is not at all difficult for me to remember, as I first heard of the attacks after teaching a class on the book of Daniel at Maranatha Baptist Bible College, where I was serving as an adjunct professor.1
As I got in my car after class, I remember turning on the radio. First, I tried to listen to the news, but I could not truly comprehend what I was hearing. I remember switching to Dr. David Jeremiah on Turning Point. Ironically, his scheduled message for that day, from his series on the book of Revelation, was entitled—so appropriately—"When All Hell Breaks Loose."
My wife Lynnette was on her way to Indianapolis, where her mother would have open heart surgery the next day. She had thought of flying, but drove instead. As she saw people lined up around the block to purchase gasoline that evening, her mind immediately raced to the events of the future tribulation.
Nearly 3,000 Americans died that day, with thousands more suffering injuries.
And all of our lives were changed.
7108 reads