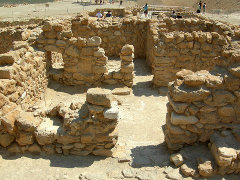 Read Part 1 and Part 2.
The men of Qumran fervently believed in a doctrine of the "last days." They had fled to the desert and were readying themselves for the imminent judgment when their enemies would be vanquished and they, God's elect, would be given final victory in accordance with the predictions of the prophets. It was in connection with these end-time events that one of the most fascinating teachings of the sect emerges. The messianic hope loomed large in the thought of the brotherhood. As a matter of fact, evidence shows that they actually believed in three messiahs—one a prophet, the second a priest, and the third a king or prince.
In the document mentioned earlier called the Manual of Discipline or the Rule of the Community, it is laid down that the faithful should continue to live under the rule "until the coming of a prophet and the anointed ones (messiahs) of Aaron and Israel" (column 9, line 11). These three figures would appear to usher in the age for which the community was making preparation.
1200 reads