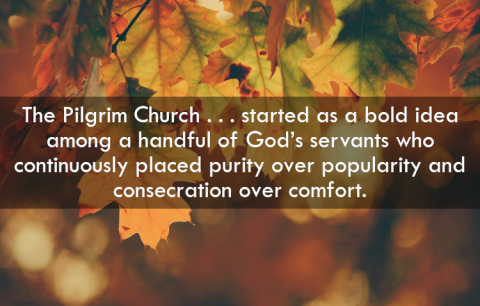 In my previous article, I introduced the importance of the Pilgrims, and shared a little bit of my own heart for my Thanksgiving, and my interest in studying and teaching on the Pilgrims.
This time, we will consider the first three of five essential lessons that we can learn from the Thanksgiving Pilgrims.
Pilgrimage
The Pilgrims vividly portray the pilgrim-like nature of the Christian life (Heb. 11:13; 1 Pet. 2:11, 12).
This is, of course, the truth for which the Pilgrims have been named, since they lived it out so completely in their spiritual lives. The Pilgrims left all they had in order to seek a place where they might worship God freely and witness for Him fruitfully. Their journeys took them from their homes in Scrooby, England, to Amsterdam and Leyden in Holland, then ultimately across the stormy ocean to this New World.
The Bible admonishes all believers to think of this life with the mindset of a pilgrim, a stranger in the world, a foreigner among the nations of people whose interests are centered upon this earth (Phil 3:20).
1579 reads