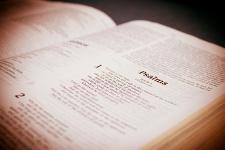 Read Part 1.
The Theme of Covenant
One would expect the covenants to have a marked presence in the Psalms, and indeed they do.1 Psalm 25:14 announces "The secret of the Lord is with them that fear Him, and He will show them His covenant." Although the covenants are for the most part clearly set out in Scripture, they are overlooked by the human parties. Those who fear God know that these covenants direct history behind the scenes. Even if they do not connect what the covenants are saying to the hermeneutical flow of the Bible, many of God's people realize that the world's hopes are fastened to them.
We don't see much of the covenant with Noah in the Psalter, but Psalm 74:16-17, with its recollection of God's governance over the seasons, certainly seems to allude to it (especially the preamble in Gen. 8:21-22). The Mosaic covenant is featured in Psalm 135:4, where it says, "The Lord has chosen Jacob for Himself, Israel for His special treasure" (cf. Exod. 19:5; Deut. 7:6; Psa. 114:2; Zech. 9:16), although the Lord's choice has its roots in the promises to Abraham (Gen. 17:7-8).
Abrahamic Covenant
This is seen in the recounting of history in Psalm 105:
7923 reads