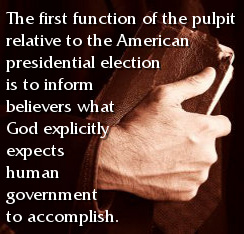 Posted with persmission from Theologically Driven.
In my last post, I suggested that the role of the pulpit in preparing a congregation for the upcoming presidential election is more complex than simply identifying relevant biblical values at stake in the election and offering corroborating textual support. Instead, we need to offer a theological matrix whereby the believer may successfully identify the most relevant concerns and weigh them appropriately. In short, it is the pastor's responsibility to develop and communicate a biblical worldview that allows the believer to recognize and promote God's expectations in areas where specific biblical guidance is not forthcoming. Note the following:
(1) The matrix begins with the realization that, in this dispensation at least, the spheres governed by Caesar and the church, respectively, are distinct (Matt 22:21). The church has no place in normalizing the legislation, adjudication, or execution of civic initiatives; nor has civil government any place in normalizing the doctrine and praxis of the church.
4202 reads