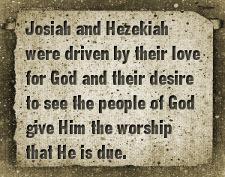 From Voice, May/June 2014. First appeared at Always Reforming. Continued from Part 1.
3. Reject everything contrary to God's Word
2 Chronicles 17:6, 30:14, 31:1, 34:3-5
King Jehoshaphat was clear about the prohibition of idol worship. So had all the other kings before him that had allowed it. But in 2 Chronicles 17:6, it tells us that Jehoshaphat did something about it. The text says, "His heart was courageous in the ways of the Lord." This courageous heart sought to obey the Lord in all things, including the destruction of the popular high places of worship and the Asherim.
For his part, King Hezekiah did similarly brave acts recorded in 2 Chronicles 30:14 and 31:1. And Josiah at the ripe young age of 20 likewise followed in the godly footsteps of these two kings (2 Chron. 34:3-5), making sure to defile the graves of the pagan priests.
574 reads