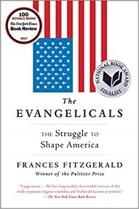 Frances Fitzgerald is a Pulitzer Prize-winning journalist with a B.A. in Middle Eastern history. She has written numerous books. In 2018, she published The Evangelicals: The Struggle to Shape America (730 pgs). This book is particularly interesting for several reasons. First, Fitzgerald is a responsible journalist and historian. Second, she does not appear to be an evangelical insider, which means she may have a more objective viewpoint. Third, the issue of the "Christian right" has become very, very relevant since Donald Trump's election as President of the United States in 2016.
So, I picked the book up at my local library. Fitzgerald explains:1
this book is not a taxonomy or attempt to describe the entirety of evangelical life, but rather a history of the white evangelical movements necessary to understand the Christian right and its evangelical opponents that have emerged in recent years.
Fitzgerald begins with the first Great Awakening and moves rapidly through the American religious scene until arriving at Jerry Falwell and the Moral Majority by page 291. The remainder of the book (340 pages of text) chronicles the Christian Right over the past 40 years.
3374 reads