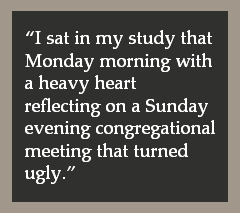 Republished, with permission, from Voice magazine, Mar/Apr 2013.
(Earl Brubaker continues sharing some of the people-skills lessons he learned during his years of ministry as a pastor. Read Part 1.)
A third lesson
On another occasion, in what could have been a major church crisis, Ray and Goff taught me to respond with compassion and understanding to the negative reactions we sometimes face. Ray, one of the church trustees, taught in our Christian Day School. Goff, the church treasurer, was a retired Los Angeles County fireman.
I sat in my study that Monday morning with a heavy heart reflecting on a Sunday evening congregational meeting that turned ugly. No violence, no overt threats, just ugly. Midway through a building expansion, we discovered that an additional piece of property was available. Most folks saw it as a great opportunity to complete the block of property already owned by the church. Others thought adding that final corner to our property was a merely cosmetic, large, unnecessary expense. The discussion got heated, voices raised. Charges of waste, deceit, and trying to control the church through private negotiations were all aired in the tense exchange. In the end, calm prevailed and the congregation voted by a large majority to complete the purchase.
827 reads