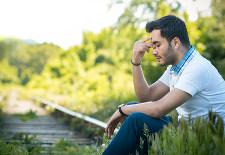 I recently read through 2 Timothy several times and journaled the specific ways Paul instructed Timothy to overcome his discouragement. Last week I shared the first four. Here are some more.
5. Be Strong in the Grace That Is in Christ Jesus (2 Tim. 2:1).
Man up! That's probably how we would say it today. But Paul wasn't urging Timothy to be self-confident, relying on his own strength of character, skills, or resolve. He reminded Timothy there is a source of strength available to every Christian—"the grace that is in Christ Jesus."
Generally, grace is God's favor that we don't deserve. Specifically as it is used here, it is God's personal help for challenging responsibilities. We have access to this help in Jesus because He is "full of grace and truth" (John 1:14).
1099 reads