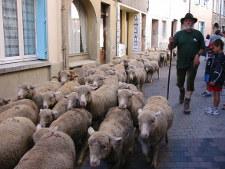 (From Voice magazine, Nov/Dec 2015. Used by permission.)
Shortly after I became a Christian at the age of 18, I sensed God's leading into full-time ministry and I enrolled in a Bible institute to begin my preparation. During two of those summers I served as an intern in a small church plant in Utah, the second summer serving as "the pastor" when Ron (my mentor) left for a month of missionary deputation.
Before he left, Ron told me I would have to do everything in the church while he was gone "even a funeral if anyone died." Needless to say, at 21 years of age I prayed like crazy for the good health of everyone in the church! Much to my relief, God answered those prayers and there were no funerals that month. The second month that followed felt like a breeze compared to the first month when I was all on my own.
It was during those summers in Utah forty years ago that I tasted what it meant to be the pastor of a local church. After graduation from the Bible institute, I continued my education in a Christian liberal arts college and at seminary knowing God was calling me into the ministry as a missionary church planting pastor. All along the twists and turns of the various ministry assignments God has given to us, we've loved every one of the last forty years.
1260 reads