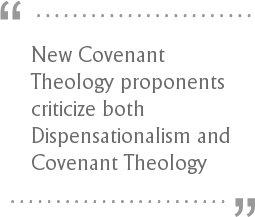 Reprinted with permission from Faith Pulpit (Oct-Dec, 2010).
New Covenant Theology (NCT) is a rather new theological movement.1 Its proponents come from the local church rather than academia, and the majority of its adherents are found within the local church. Its proponents include Tom Wells, Fred Zaspel, John Reisinger, and Steve Lehrer.
Some people within the movement have reacted against Dispensationalism or Covenant Theology, and sometimes both. John Reisinger writes, "As New Covenant Theologians, we believe that historic Dispensationalism, as a system, is not biblical…. We are also convinced that Covenant Theology, as a system, is just as unscriptural."2
Several of its proponents come out of a Reformed Baptist position, abandoning the tripartite division of the law (moral, civil, and ceremonial), infant baptism, and the historic covenants of works and grace. While they abandon these aspects of Reformed theology, most also reject dispensational distinctives, such as the distinction between Israel and the church and dispensational hermeneutics.
2295 reads