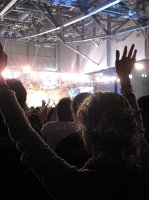 Don't use adjectives which merely tell us how you want us to feel about the thing you are describing. I mean, instead of telling us a thing was "terrible," describe it so that we'll be terrified. Don't say it was "delightful": make us say "delightful" when we've read the description. You see, all those words (horrifying, wonderful, hideous, exquisite) are only like saying to your readers "Please will you do my job for me." (C.S. Lewis)
Lewis helps us to recognize a lot of modern Christian songwriting for what it is: laziness. No doubt, many of these songs are vast improvements on the Bliss and Crosby cliché-mill. Certainly, it's a breath of fresh air to be singing about the faith without a constant nautical theme: waves, anchors, lighthouses and ships ahoy. And any serious Christian will be thankful for an injection of sound theological ideas into the gelatinous world of evangelical conviction.
With all that said, I find Lewis' sentiment played out before me in not a few modern songs. These songs seem to try to gather as many superlative adjectives as possible that will fit the metre of the song. These are then piled on top of one another, and the result is a rapid-fire of high-concentrate adjectives. The resulting lyrics are something like: "Indescribable majesty, incomparable glory, unbounded mercy, immeasurable beauty…You're the highest, greatest, most wonderful, most awesome"—you get the idea.
Yet for all this, the effect is palpably flat. Instead of soaring into the heights of praising God as the ultimate Being, one sings these super-hero adjectives with a sense of dull oughtness: yes, I should feel God's surpassing value, but I don't. Perhaps if I keep singing these superlatives with sincerity, I will.
15911 reads