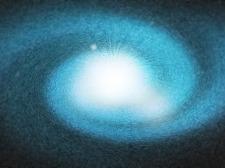 Most of us are familiar with the distinction between facts and the interpretation of facts. Objective facts are often interpreted based upon the worldview, paradigms, assumptions, culture, and even personality of the interpreter. Facts do not change. Our interpretation of facts may.
This is certainly true when it comes to history, but also true when it comes to "science." For example, a young earth creationist interprets the fossil record as suggesting rapid massive burial, probably a result of Noah's flood. An evolutionist looks at the same pile of fossils and says small floods buried them over millions of years.
I don't fault researchers for interpreting facts in light of their accepted models, but I do fault them for presenting their interpretations of the facts as the facts themselves.
Scientists are puzzled at the perfection of the universe and particularly our planet. Planet earth meets the plethora of delicate conditions necessary to sustain complicated life forms — like we humans. Even apart from the issue of how we came to be, the issue of how we can thrive anywhere in the universe is statistically challenging.
The laws of physics are too finely tuned to have been random, and thus they suggest Intelligent Design. Modern paradigms embraced by the majority of the scientific community, however, allow no room for a Creator. Enter the theory of the multiverse — multiple parallel universes.
2546 reads