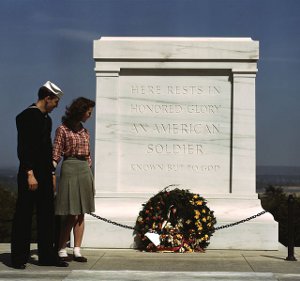 President Reagan delivered the speech at Arlington National Cemetery after placing a wreath at the Tomb of the Unknown Soldier. Source: Heritage Foundation and The American Presidencey Project.
Today is the day we put aside to remember fallen heroes and to pray that no heroes will ever have to die for us again. It's a day of thanks for the valor of others, a day to remember the splendor of America and those of her children who rest in this cemetery and others. It's a day to be with the family and remember.
I was thinking this morning that across the country children and their parents will be going to the town parade and the young ones will sit on the sidewalks and wave their flags as the band goes by. Later, maybe, they'll have a cookout or a day at the beach. And that's good, because today is a day to be with the family and to remember.
1974 reads