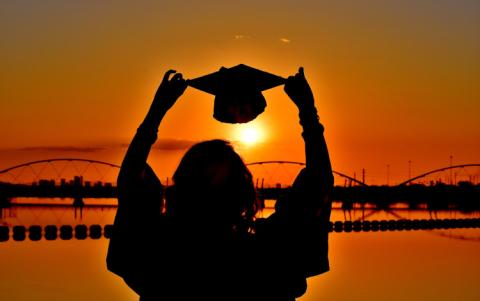 Some years ago I was invited to deliver the high school graduation homily at my daughter's graduation. Her classmate, who issued the invitation conversationally, called it a "brief address thingy."
Since she put it like that, how could I refuse?
I didn't really need any persuading. Having attended quite a few graduations before that, I'd had occasion to ponder what I'd want to preach at a graduation if I ever got that opportunity.
What I wanted to tell them is that, for a Christian, any kind of graduation is a major step forward in a life well lived—and if we want to understand what that means, there is no better-lived life than Jesus' life. Philippians 2:5-10 provides a powerful summary.
Let this mind be in you which was also in Christ Jesus, 6 who, being in the form of God, did not consider it robbery to be equal with God, 7 but made Himself of no reputation, taking the form of a bondservant, and coming in the likeness of men. 8 And being found in appearance as a man, He humbled Himself and became obedient to the point of death, even the death of the cross. 9 Therefore God also has highly exalted Him and given Him the name which is above every name, 10 that at the name of Jesus every knee should bow, of those in heaven, and of those on earth, and of those under the earth (NKJV)
I challenged the graduates that day with three observations about the life well lived. (The students had all studied Greek, so I brought a bit out.)
984 reads