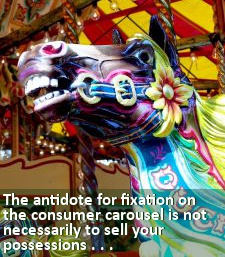 If you are a typical, suburban American, you ride a wooden horse on the "consumer carousel." And on this economic joy-ride, there is a place where we grip the pole with our left hand and reach out with our right to grasp a brass ring. Then, as our painted horse proceeds in a lazy circle to the accompaniment of festive music, we get another chance to grab another ring. And on this particular ride, the rings get bigger and better with each pass.
On our first circuit we sign a lease on a modest apartment. The carousel slowly turns and with great excitement we return to the ring post and hook a starter home. On the next pass, we hope to grasp a bigger house in a better location.
On round one we dine at McDonalds and Dairy Queen. But as the carousel completes another revolution, we upgrade to Red Lobster and Olive Garden. On the next round we reach for a yet bigger and better brass ring, hoping to dine at exclusive restaurants with story-book names, opulent décor and white-capped chefs.
On our first pass we secure a used car. On the next round we get something "more reliable." Another pass or two and we are reaching for that car or truck (or tank) of our dreams.
Life on the consumer carousel is all about upgrading. Each circuitous pass provides fresh opportunity to secure a bigger and/or better replacement of what we already have. Bigger and better shelter, higher quality food, more expensive clothes, better transportation, entertainment, appliances, furnishings, vacations, and on and on it goes.
Economic conditions among suburbanites in this country vary considerably. But we all have a horse on this ride. Admit it, there is something right now that you are hoping to replace with something more costly in the near future.
2685 reads