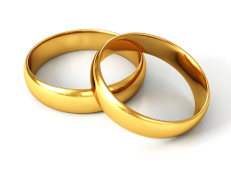 What's the purpose of marriage? Is it sex? Is it to make lots of babies? Why did God create "marriage," what's His purpose for it, and what difference should this make in your married life?1 Genesis 2:18-25 has some answers for you, and we'll explore this issue by a series of questions from the text.
Then the LORD God said, "It is not good that the man should be alone; I will make him a helper fit for him." Now out of the ground the LORD God had formed every beast of the field and every bird of the heavens and brought them to the man to see what he would call them. And whatever the man called every living creature, that was its name. The man gave names to all livestock and to the birds of the heavens and to every beast of the field. But for Adam there was not found a helper fit for him (Genesis 2:18-20).
Q1: In the Genesis creation account, did God ever tell the man to exercise dominion over the woman?
No, He didn't. God's commands in Genesis 1 are for both Adam and Eve. He commanded both of them to exercise dominion over all creation together (Gen 1:28-30). This doesn't mean there isn't a hierarchy of roles (not dignity and worth) within the marriage relationship. It just means the focus of the two creation narratives aren't on roles within marriage; we must go elsewhere for that information.
Whatever else marriage is about and what it's intended for, the Book of Genesis does not say it's about a man exercising dominion over a woman.
5938 reads