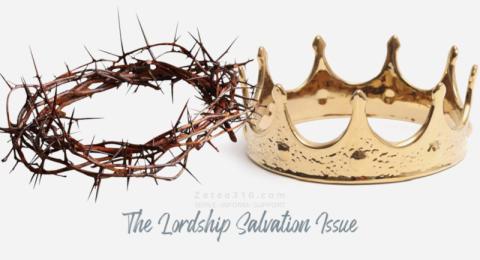 The Lordship Salvation Issue is surely one of those many topics where the less I say the better. Nevertheless, I do want to say something (with some sense of trepidation).
Most of my friends are non-Lordship Salvation. Many are far more informed than I am. In many ways I'm over my head, and would rather avoid division – if for nothing else to avoid embarrassing myself. So in the few discussions I've had, I've tended not to say much.
Let every person do their own study and come to their own conclusion.
I once posted a Cripplegate article in a group and was promptly informed it wasn't representative of the LS teaching. It shouldn't be surprising that there are nuances and differences among proponents of the camps. A non-LS fellow chimed in that LS is an even more dangerous doctrine than pretribulationism! I found that remark astonishing. Why am I not seeing this?
My two main references (I have others) on the LS issue are MacArthur's The Gospel According to Jesus and Freely By His Grace edited by Hixson, Whitmire and Zuck. The latter is 600 pages. It would be accurate to say that I haven't plumbed it all, and likely never will.
That said I do have some concerns re the non-LS groups. First is the following statement by one of the FBHG contributors:
3057 reads