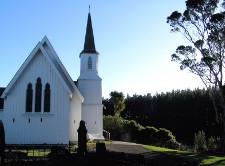 Republished from Voice, Jan/Feb 2018.
One of my favorite pastimes is driving across rural America and looking at old country churches. It pains me when I see those time-worn yet beautiful church buildings being neglected while nature and the elements take over and lead to their eventual ruin. My passion for old church buildings led me to purchase one particular church building in rural Western Nebraska five years ago. The little church had closed a year earlier. My grandfather John Miles had been the last pastor of the church until he passed away at age 92 and the church eventually closed. The building has nostalgic value to me.
Since purchasing the old church building, my wife and I and some talented friends of ours have been restoring it so that it could become our home. This summer we finally completed this five year process of patiently restoring a church building that was in decline and we moved in.
I have a similar passion for restoration when a local body of believers find themselves in a state of decline. It is difficult to see a local church that is in various stages of decaying or dying. I've had the tremendous privilege of pastoring in rural settings and being a part of what I like to call "restoration ministry." I've had a front-row seat as I watched God infuse life into His people in these localities.
2619 reads