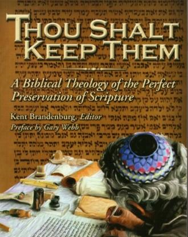 How has God preserved His Word? Should you place your faith in the science of textual criticism to restore the New Testament text, bit by bit? Or, should you simply believe, by faith, that God has already preserved His Word in the manuscript tradition which has been preserved and used by the church down through the centuries?
In a book which he edited, entitled Thou Shalt Keep Them, Kent Brandenburg argued for the primacy of the Textus Receptus and, more specifically, the King James Version of the Bible. In this excerpt, he explains why he believes a Christian must accept this by faith.1
Living by faith is so integral to and synonymous with Biblical Christianity, and such a foundational truth in the New Testament, that this declaration of the Lord to Habakkuk is quoted three times in New Testament passages (Rom. 1:17; Gal. 3:11; Heb. 10:38). The believer is a believer; he lives by faith because that is what it is to be a Christian. Faith is the basis of the righteousness from which someone lives (Rom 1:17; Gal. 3:11). Those who do not live by faith are apostates and the Lord has no pleasure in them (Heb. 10:38). Faithlessness is a serious issue for serious people.
18810 reads