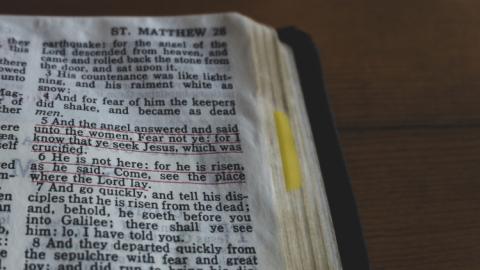 Read the series.
"If He is the King of Israel"
We have seen that Matthew employs the idea of the kingdom in two basic ways. At the beginning of his Gospel the kingdom is the eschatological Kingdom of OT expectation. In the parables however, the introductory phrase "The kingdom of heaven is like" points to images of the progress of the kingdom program as it wends its way to final fulfillment; only now and then is the age to come in view. Now that He is in the hands of His foes it looks to most onlookers that this cannot be the Messiah. He is powerless against those who wish Him dead, being fully submitted to the non-exercise of divine prerogatives or authority as "Commander of the army of Yahweh" (Josh. 5:14).
Matthew 27:26-50 is one of the most intensely stirring recitals ever penned. From one angle it gives the lie to all the grand expectations of the OT of the great Coming One. Surely we are mistaken about Jesus? He is defeated. He goes to meet Death having barely made a splash in the world, never mind reigning over it in justice and peace! That was the perspective of many at the time, and they thought they had good scriptural reasons for their opinions. They are represented by those who cried "If He is the King of Israel…" then something must happen to realign reality with covenant expectation. Jesus could not be the long-expected King.
1006 reads