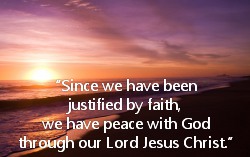 In my quest to discover New Testament midrash ("Second Testament" teachings which are expositions of, or expansions upon, "First Testament" texts), I was perusing Paul's Use of Isaiah in Romans by Shiu-Lun Shum. Though Shum did not claim as much, I believe we can (and that Paul did) deduce the concept of salvation by faith apart from works from the originating Isaiah passages.
Shum points to Isaiah 32:17 as the foundation for Romans 5:1.
Romans 5:1 reads,
Therefore, since we have been justified by faith, we have peace with God through our Lord Jesus Christ. (ESV)
Isaiah 32:17 reads,
And the effect of righteousness will be peace, and the result of righteousness, quietness and trust forever.
I am beginning with the assumption that Romans 5:1 is indeed a midrash (explanation and expansion) upon Isaiah 32:17. The closer we look at the two passages, the more clear it becomes that they are connected.
2427 reads