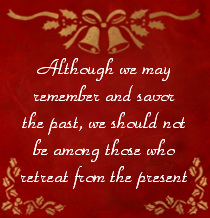 "God Rest Ye Merry Gentlemen" is one of my favorite Christmas carols. In Scripture, God not only permits us to be merry, He encourages it. Sadly, when Christians focus on some truths while ignoring others, joy and merriment often suffer.
It is true that Christmas is a man-derived holiday. Although the birth of Jesus was divinely enacted, celebrating that birth is nowhere commanded in Scripture. But neither is it forbidden.
It is also true that the Paul's command to "Rejoice in the Lord always" (Philippians 4:4) is not primarily about merriment, yet His command to focus on the good things of this life (Philippians 4:8) implies enjoying more than the spiritual.
Proverbs 15:15 tells us that, if our hearts are cheerful, life is like a party: "All the days of the afflicted are evil, but the cheerful of heart has a continual feast."
Proverbs 17:22 says, "A joyful heart is good medicine, but a crushed spirit dries up the bones."
The Hebrew word for gladness or joy is simcha (pronounced with a hard ch, as in Bach). The word came to be used for a celebration, as Wikipedia states:
Jews often use simcha in its capacity as a Hebrew and Yiddish noun meaning festive occasion. The reason for it is that any celebration is a happy occasion. The term is used for any happy occasion, such as a wedding, Bar Mitzvah, Brit Milah [circumcision] or engagement.
Christmas and New Year's are times of celebration, and during this season we need to enjoy each simcha that comes our way. But that is not always easy. Sometimes the "Ghosts of Christmas Past" get in our way.
1314 reads