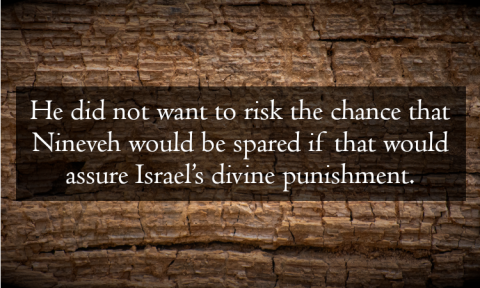 Jonah is "a paradox: a prophet of God, and yet a runaway from God: a man drowned, and yet alive: a preacher of repentance, yet one that repines at repentance."1
In the early part of Joash's reign, Jonah prophesied the restoration of Israel's northern borders lost in wars with Syria and a time of prosperity and safety that would follow to rival the nation's former greatness.2 However, in her prosperity, Israel became complacent and arrogant thinking that they alone were the people under the divine favor and no other nation was so esteemed (Amos 9:7) by the Living God (Amos 6:1-8).
Exasperated with Israel's unfaithfulness, God sent prophets to declare judgment against Israel warning them that He would use the Assyrians, whose capital city was Nineveh—a feared nation known for its cold-blooded barbarity—to punish and expel Israel from the land because of her sins (Hos. 9:3, 10:6, 11:5; Joel 1:6,7; Amos 9:11). In this setting God called Jonah to preach judgment against "Nineveh the great city for their wickedness" (NASB, Jon. 1:2). However, Jonah decided to make a run for it in the direction opposite Nineveh.
1408 reads