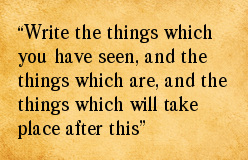 Introduction
I am a believer in the concept of biblical patterns and double or even multiple fulfillments of prophecy. The destruction of the Temple on the 9th of Av, 586 BC and again on the 9th of Av, AD 70 evidence the pattern-like nature of God's dealings.
Still, prophecies usually have one "more literal" fulfillment (e.g., Isaiah 7:14). So it is possible to examine a verse, see how it was fulfilled somewhat near to the prophecy, but then see a fuller fulfillment in the future. Thus the Book of Revelation can have several fulfillments, one that is past, one that is ideological and not tied to particular dates, and one that is somewhat more literal, sequential, and tied to the End Times. Thus the "Futurist" approach to Revelation is not necessarily mutually exclusive, but is, I believe, primary.
Does Jewish literature leave us an example, a clue for interpreting Revelation 4-19 in particular? Although many of us tie this period to Daniel's 70th seven (Daniel 9:25ff), others see it otherwise. So what evidence is there—outside of the Bible proper—that suggests understanding Revelation 4-19 as an expansion and detailed account of the coming seven-year world tribulation? Glad you asked.
6657 reads