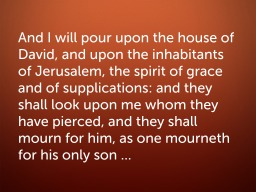 The Septuagint ("LXX") is the Greek translation of the Old Testament, dating to sometime in the mid to early 2nd century B.C. It came about because many Jews living abroad, particularly in Egypt, had lost much of their ability to read and speak Hebrew. They need a translation of the Tanakh (the Hebrew Scriptures) in their own language. The Mediterranean culture was heavily influenced by Hellenism at this time; a legacy of Alexander the Great's conquests. So, the Hebrew Scriptures were translated into Greek.
This Greek version of the Tanakh was the version Jesus and the apostles used. The majority (but not all) of their Old Testament citations are from the Septuagint. This means the Septuagint is important.
I'm preaching from Zechariah 12:1 - 13:1 next week, as our congregation celebrates the Lord's Supper. This passage contains the famous prophesy about the Israelites looking to Jesus, whom they pierced (Zech 12:10). This "piercing" clearly refers to Jesus' death, and echoes an earlier prophet, Isaiah ("but He was pierced for our transgressions; He was crushed for our iniquities …" Isa 53:5). But, there's an interesting problem. The LXX is different from the Hebrew!
One of these is not like the other
Here is the difference between the two:
2465 reads