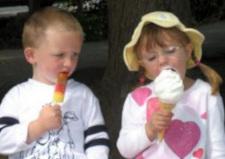 I have always thought of jealous adults as childish. But as I thought more about the matter, I came to realize that many of the sins we see so clearly in childhood carry over into adulthood. We simply learn to hide them better. For many of us, the weaknesses and sins we displayed in childhood are still with us: jealousy, laziness, a critical spirit, fits of temper, etc.
The other day, I was teaching our AWANA kids about how Laban was jealous of Jacob. God blessed Laban with wealth (in those days, measured in livestock). Jacob, who started raising livestock with Laban's rejects, began to catch up to and surpass Laban (Genesis 30-31). Laban and his sons became so jealous that Jacob and his family had to escape for their lives. Had God not warned Laban in a dream, he may well have killed Jacob.
Johann Strauss Sr. was a musical genius, but he envied his son, Johan Strauss Jr., who surpassed him in genius and fame. When we speak of the "Strauss Waltzes," we are usually talking about the work of Johann Jr. Time and time again we hear stories of parents jealous of their children's talents, beauty, or "breaks in life." I am among those who want my children to have everything so that I can move in with them!
2049 reads