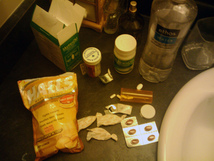 I'm slowly emerging from what we in polite society call a head cold from the place of eternal perdition. It's been 7-10 days of full-out and complete battle against invisible forces, armed in one hand with a box of kleenex and in the other with a fistful of vitamin C—and goodness knows what I took in the middle of the night in my congestion-induced haze.
It's been rough.
Apparently we've been passing it around as a family for several weeks now (this is the third Sunday I've been home with little ones) and, while at first it contented itself with drippy noses and whiny coughs, it finally conspired into one massive onslaught. Fever, congestion, watery eyes, coughing—the works.
As you can imagine, when mama's been transformed into a walking ball of germs, it can take a toll on family life. And while I know we ate last week, I have only vague memories of chicken curry and pasta. What form or shape they took, well…your guess is as good as mine. My mind's been cluttered too, and the normally lucid conversations with my husband have been reduced to grunts and a universal absence of antecedents.
1752 reads