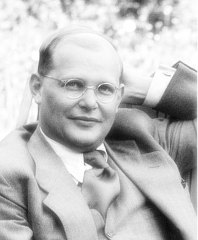 From Faith Pulpit, Winter 2013. Used by permission. All rights reserved. See Part 1, Bonhoeffer: Approaching His Life and Work.
Bible-believing evangelical Christians hold a high view of the Scriptures. Many evangelicals also see Dietrich Bonhoeffer as a Bible-believing Christian. Bonhoeffer, however, accepted the prevailing historical-critical views of the Bible in his day. Therefore, we should be wary of calling Bonhoeffer a "Bible-believer." The following three examples from his writings support this position.
Creation and Fall
In Creation and Fall (1932), an exegesis of Genesis 1-3, we find clear examples of Bonhoeffer espousing the historical-critical view of the Bible. In this work he referred to the Biblical author as the "Yahwist."1 The "Yahwist" is a reference to the historical-critical reading of the text in Bonhoeffer's day. John de Gruchy, who edited an edition of Creation and Fall, included an explanatory footnote at Genesis 2:4 to alert the reader that Bonhoeffer held Wellhausen's documentary hypothesis view.2 For Bonhoeffer, the Bible was subject to the prevailing views of historical criticism.
Commenting on Genesis 1:6-10, Bonhoeffer pointed out that the Scriptures contain errors in regard to the creation account.
Here we have before us the ancient world picture in all its scientific naïveté. While it would not be advisable to be too mocking and self-assured, in view of the rapid changes in our own knowledge of nature, undoubtedly in this passage the biblical author stands exposed with all the limitations caused by the age in which he lived. The heavens and the seas were not formed in the way he says: we would not escape a very bad conscience if we committed ourselves to any such statement.3
Notice that Bonhoeffer defined "scientific naïveté" as believing that God spoke the heavens into existence as Genesis 1 describes. Bonhoeffer then asserted, "The idea of verbal inspiration will not do. The writer of the first chapter of Genesis is behaving in a very human way."4
7233 reads